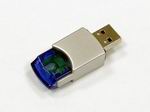 MII-791 / MII-792

Product Brief:
MII-79x series is a Bluetooth USB2.0 dongle that meet Bluetooth v1.2 Spec. for faster and more stable operations. Two models are available: MII-791 is for class1 (100 meter) and MII-792 is for class2 (20 meter).
* Obsolete

Specifications:
USB 2.0 interface, USB 1.1 backward compatible.

Compatible with Blurtooth V1.2 SIG/BQB standards.

Operating range: up to 20 meters for MII-792 (Class2),
up to 100 meters for MII-791 (Class1).

Hardware integrated solution fir best performance.

Adaptive Frequency Hopping (AFH) for better encryption.

Operates in popular 2.4GHz frequency band.

Co-exist with WiFi without interferences.

Built-in antenna.

Fully piconet connectivity with support up to 7 active and 8 parked slaves.

Scatternet compatible with Microsoft HID devices.

Plug-and-play installation and easy configuration.

Software upgradeable.

Bus-powered, no external power required.

Supports Windows 98SE, ME, 2000 and XP.

Dimensions (LxWxH): 53 x 21 x 12 mm.

Weight: 7g.